Welcome to the Top Cat® Air Tools home on the web.
T.C. Service Company employs modern technology and equipment to produce top quality Top Cat® industrial air tools. From vertical grinders, horizontal grinders, right angle grinders, die grinders, burr grinders, chipping hammers, scaling hammers (scalers), needle scalers, to saws and drills - our full product line will have all of the material removal tools you require.
Computer Aided Design and extensive use of finite element analysis enables us to perform stress tests and is instrumental in developing and perfecting the products we sell.
Top Cat® air tools are American made by skilled machinists using the latest in C.N.C. machinery at our Willoughby, Ohio (a suburb of Cleveland) plant. Designed for user efficiency and safety, all T.C. tools comply with OSHA and ANSI standards.
Authorized Agents Worldwide assure prompt delivery of tools and parts, and provide complete repair services. Top Cat® repair parts restore tools to original quality and performance standards, and are available from your distributor.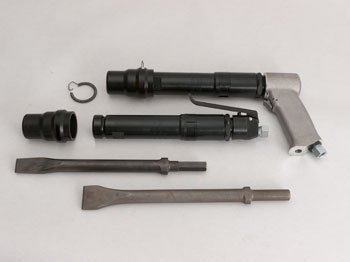 The TC-183 series of chipping hammers bridge the gap between the worlds of scalers and large chipping hammers. At around 6 pounds it hits like a truck using the same chisels as your larger chipping hammers. If you have a need to get more pounding power than your scaling hammer or less weight than your big chippers, than this is the tool for you.